Material: Premium hypoallergenic stainless steel. Certified natural Rose Quartz/ Black Onyx crystal.
Dimensions: 1.85 in x 1.1 in x 4.6 in (4.7 cm x 2.85 cm x 11.6 cm)
Compatibility: Compatible with Leaf Urban, Leaf Chakra and Leaf Crystal.
Placement: Bracelet, necklace or clip
*Shade of stone may slightly vary between models 
Customer Reviews
Write a Review
Ask a Question
08/04/2020
Virginia A.
United States
Great buy!!
Loved the clip! I recently dropped the quartz stone by dropping it and it was nice to be able to buy just the clip! Awesome deal! Thank you!! ❤️❤️❤️
Hi Virginia, Thank you for your review. We are glad to hear you love your Leaf Chakra clip! All the best, Matea
06/26/2020
Carrie
New Zealand
Beautiful Piece!
I am so glad that this clip is available as a separate purchase because I was torn between products and this made it possible to have the best of both worlds! It is a lovely piece of jewelry and I have had many compliments. A good way to be able to change things up if you have the Leaf Urban. Very satisfied!
Hi Carrie! Thank you for your feedback! We're glad to hear that you like the Leaf Chakra Clip and the fact that our Leaf's are interchangeable, so you can change the style whenever you would like. All the best, Maristella
04/03/2020
Lucia V.
United States
Pretty but sad it can't be worn as a bracelet
I love the pink rose quartz on this clip! However, I wish it had a bottom piece to link it to the bracelets. Just know that it can only be worn as a clip or necklace.
Hi Lucia! Thank you for your lovely feedback! We're really happy to hear you're satisfied with your Leaf and we hope you have a wonderful experience with our product! We are constantly working on new products and updates, so please keep an eye, as you never know, maybe our next Leaf will have the design as Leaf Chakra but will have the option to be worn as a bracelet too. All the best, Maristella
02/07/2020
Kate
United States
So beautiful
I own all versions of the leaf except for the Chakra so when I saw that the clips are now available on their own, I immediately grabbed both colors. They arrived today and are even more beautiful in person. Thank you Bellabeat for allowing us to purchase the clips on their own ♥️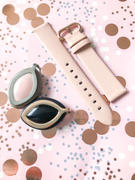 Hi Kate. We're so glad to hear from a happy customer! Yes, it's great to be able to purchase the clips separately because that way you can achieve more than one look for your Leaf. And soon we will be adding Crystal Clip to our webshop! Thank you for your review. I wish you a lovely day. Bilanda