What others say about Time
We design our products for you.
Customer Reviews
08/26/2020
Anonymous

United States
It's good
I was under the impression that the meditation aspect would have guided meditation you could use from the app, but that was probably a mis understanding on my part. I would like to see a second hand placed in one of the time watches as I use those quite often working in the health field. The sleep tracker is another thing that could use a lot of tweaks and improvements. I know I'm not actually sleeping 9 hours a night despite my time saying I did. It's very cut and dry "yes you were in bed you slept". But what about the quality? REM cycles, deep sleep, how often am I moving around restless. That sort of thing. The best thing I love about it is the battery life, I hate having to charge so many things up in my life and having a smart hybrid watch that I don't have to do that with has been great.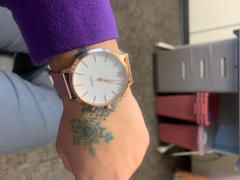 Bellabeat
Hi there, Thank you so much for your constructive feedback! We will forward it to our team for consideration! We are constantly looking to improve all aspects of our products, and having opinions and suggestions from our users really makes us strive to better ourselves to suit their suggestions. All the best, Maristella
07/23/2020
Steph S.

United Kingdom
Classy Watch
I love how classic the design is It's comfortable to wear even typing at my desk all day it doesn't dig in and I get some lovely complements on it People are always surprised by the watch being a tracker as well The sync function and tracking is similar to other Bellabeat products I've used (I have had several Leaf trackers over time, usually they end up accidentally being put in the wash after clipping to my clothes) It's sensitive to track my movements, but also tell the difference between typing and other forms of movement (I'm an animated talker) All in all a fabulous watch and tracker and I'd recommend it to anybody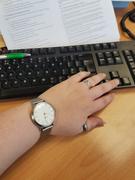 Bellabeat
Hi Steph. Thank you for this wonderful review and photo! We are glad to hear you are enjoying your latest purchase and we certainly hope that this one won't end up in the wash, because there's many more compliments heading your way. :) Have a wonderful day! Bilanda
07/11/2020
Rebecca B.

Australia
Absolutely stunning, but not sure on accuracy?
I have recently upgraded from the leaf to time. Oh my! Time is absolutely stunning, it's so elegant and feels a lot more secure and comfortable than the leaf. However I find myself questioning its accuracy. Doing the same usual routine that I do when wearing the leaf it seems to count a lot less steps and doesn't always pick up in my breaks in sleep. Will be interesting to see if a future update will improve this. I hope so and if it does it would be 5 stars perfect, the best watch and tracker hands down.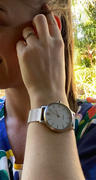 Bellabeat
Dear Rebecca, Thank you for your review and the lovely photo! :) I am glad to hear that you are enjoying one of our most popular pieces, but if there are some issues with tracking inaccuracies, please reach out to our support@bellabeat.com so that our technical team can assist you in realizing the full potential of this wonderful device. :) Have a wonderful day! Bilanda
06/13/2020
Anonymous

United States
Beautiful
Love this piece. Really like being able to wear to work and out in about. Still use my leaf for working out . Only disappointment is that I've only had it since end of May and already has a low battery notification.
Bellabeat
Hi there! Thank you very much for your time and for the lovely words. We're so happy to hear that you love your Bellabeat device. We hope you will continue to be as happy as you were so far! If you would need any assistance regarding your battery, please feel free to reach out to us at support@bellabeat.com, so we could take a look at it, and resolve this matter for you. Thank you once again! All the best, Maristella
05/18/2020
Donna D.

Canada
Great product!
I have had a Leaf Nature for years and love it. It was Time to get Time! It does take a lot longer sync at first but once you get the hang of where to tap it is fine. Love that no one knows what it is - just that I got a new watch! Only negative is that when you order from Canada the taxes and duty are added on after. Unexpected expense.
Bellabeat
Hi Donna. Thank you for your review! I am very happy to hear that you have added Time to your Bellabeat collection and that you are happy with your purchase. Except for customs expenses, of course, but that part is completely out of the scope of what we can control. Happy tracking! Bilanda
149.00 $
In the Box
Time
Battery
Battery Replacement Tool
Benefits
Optimized for women's health
Calculates Wellness score
Monitors activity, and sleep
Tracks menstrual cycle, meditation, and hydration
Gives insights into your health and lifestyle with guidance on how to improve them
Lightweight, safe for skin, and hypoallergenic
Specs
Materials: Hypoallergenic stainless steel
Power source: CR2032 coin cell battery SR621SW
Battery: Long-lasting replaceable battery
Connectivity: Wireless
Sensors: Tri-axis accelerometer
Water resistance: ATM grade 3 – splash resistant, can withstand washing hands, showering, and occasional contact with water
Free shipping
30-day returns
365 day warranty